We love data at Modjoul. Every day, our team is deep in data analysis as we work to discover better ways for keeping workers safe and reducing risk for companies.
With summer winding down and the holiday season approaching, here's a number that is on our collective mind right now:
That's how many seasonal workers that U.S. employers in the retail, transportation and warehousing sectors hired in the fourth quarter last year. That figure was just a tick under the 1.2 million hired in the same period in 2020.
That's a lot of new employees in a very short period of time.
Indeed, for many companies, seasonal hiring is a key component of their workforce development strategy. Seasonal hires not only allow operations to ramp up to meet short-term periods of higher demand, they also provide an extended opportunity to evaluate and identify candidates for permanent employment.
But a rapid and significant increase in workers also presents challenges — perhaps most notably for workplace safety. The most effective safety programs require thoughtful training and consistent reinforcement. That strategic approach can sometimes be at odds with the urgency to thrust significant numbers of new workers into action — at precisely the busiest time of year.
The good news is Modjoul can help.
Introducing Modjoul's New Employee Model
The good news is Modjoul can help, and we're excited to introduce our new employee model that enhances workplace safety with a strategic approach toward newly hired workers. With Modjoul's new employee model, operational guardrails can be set up to ensure the safety of your seasonal workers. These guardrails include:
Threshold Alerts: Modjoul's system can set up threshold alerts to notify you when safety metrics reach critical levels, allowing for immediate action to be taken.
Alert Button for Questions: Our new model provides an easy way for employees to seek clarification and ask questions by simply pressing an orange button on their wearable device, ensuring they have the information they need to stay safe.
Repetitive Motion Alerts: Modjoul's technology can detect repetitive motion patterns and send alerts to prevent potential injuries or discomfort among your workforce.All of these features will make an even bigger impact during times when you ramp up your workforce.
Modjoul Is Your Seasonal Hiring Strategy's Best Friend
The Affordable Care Act (ACA) defines a seasonal employee as "an employee who is hired into a position for which the customary annual employment is six months or less."
And when it comes to seasonal hiring, there's another number we at Modjoul are obsessed with:
Unfortunately, seasonal or temporary workers are about 50 percent more likely than permanent employees to be seriously hurt at work.
So while hiring seasonal workers may be essential for many businesses, it also presents a significant risk — to both employee and employer. Too often, companies don't plan far enough ahead (or at all) to ensure their seasonal employees are adequately trained before they're put to work.
If you are partnering with a staffing agency to hire seasonal workers, that can present another layer of complexity and questions about who is responsible for safety training — the staffing agency or the employer? The answer is both share responsibility. While staffing agencies can and do provide basic safety training, the host employer knows the hazards of their specific job site better than anyone and therefore is responsible for providing site-specific training to seasonal workers.
We recommend companies that need to scale up for the holidays do a few things:
Hire early.
September — or even August — is not too early to begin vetting potential employees for seasonal positions. Don't skip your normal screening process.
Develop specific training for seasonal workers.
Streamline training to include just the specific duties you're hiring a seasonal worker to perform. Keep it focused.
Complete all safety training before work begins.
While there will likely be some "on-the-job" training for seasonal workers, that shouldn't extend to safety. Develop a plan to ensure all seasonal employees are properly trained on all safety policies, procedures, technology and proper ergonomics and physical movements before they begin work.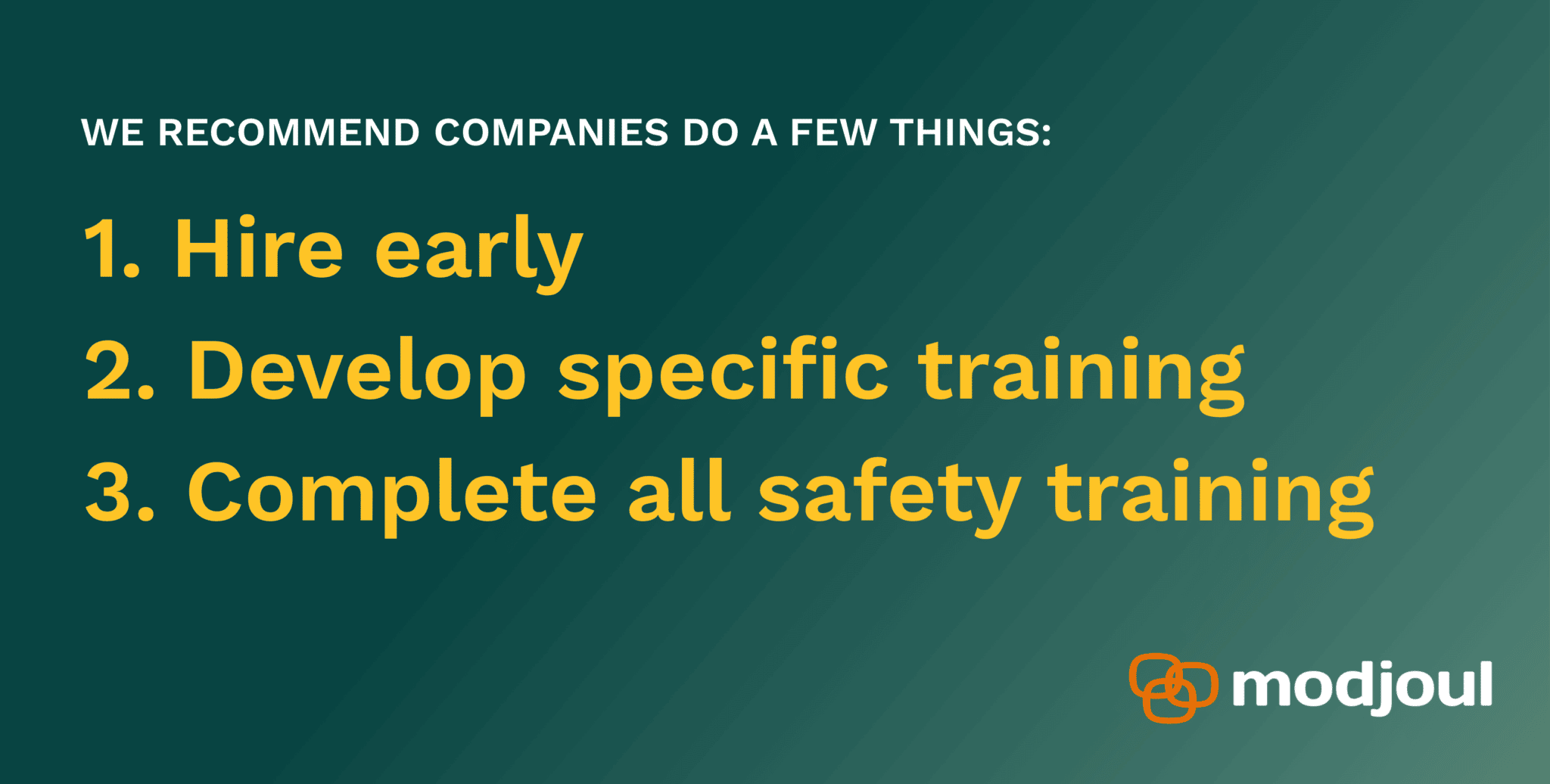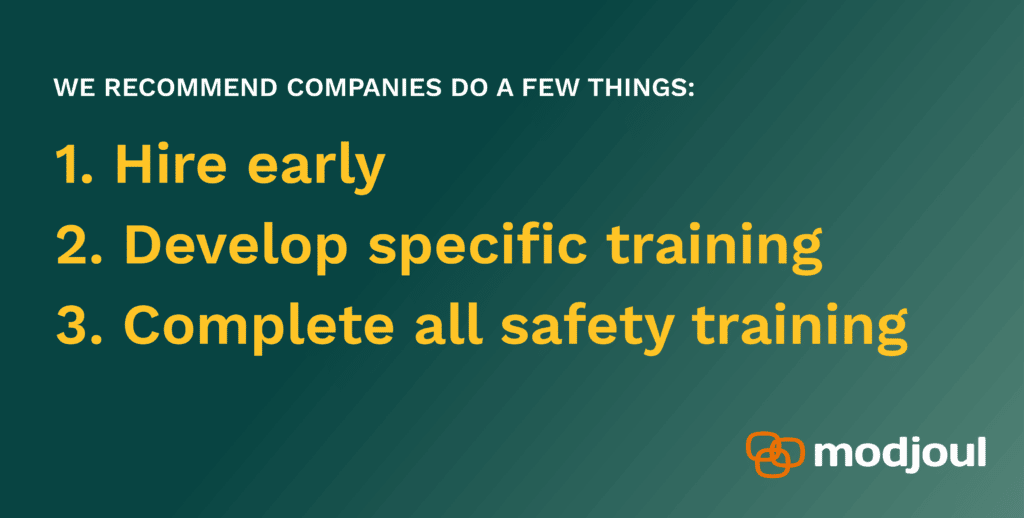 That's where Modjoul comes in. Our solutions are easy to implement into the workplace, so they won't slow you down. And they provide the kind of immediate reinforcement to workers and real-time data to employers to help them identify problem areas that keeps everyone safe.
If you are about to embark on a seasonal hiring surge, contact us. Whether you are a current Modjoul client or not, we will evaluate your situation and seasonal employment plan and recommend solutions that will keep your operations humming during your most important time of the year.